Up the Mountain and Round the Rock!
Social Feed
Up the Mountain and Round the Rock!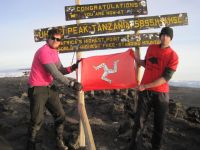 Conister Bank employee, Mark Bratt, recently scaled new heights when he completed an ascent of Africa's highest peak, Mount Kilimanjaro. The 5,893 metre ascent was completed by Mark on the 19th of June.
Mark, whose day to day occupation see's him providing IT and Network Support at Conister Bank in the Isle of Man, scaled Kilimanjaro with his friend Dave Clark-Wilson in order to raise funds for their chosen charities, the Alzheimer's Society, Macmillan Cancer Support and Oskar's Dreams/Rebecca House.
Having climbed so high in such a short space of time, one might imagine that Mark would be putting his feet up for a while. Instead, to boost their fund raising, both he and Dave will also be aiming to complete the 85 mile parish walk on 26th June.
Mark commented:
"Getting to the top of Kilimanjaro was an unforgettable experience and, despite a lack of both sleep and oxygen, we spent 20 minutes celebrating and admiring the stunning views. Dave and I have paid all our costs for both the trip to Africa and the Parish Walk so 100% of anything donated will go straight to our chosen charities. Any and all donations are greatly appreciated and will go to what are very worthwhile causes."
To find out more about Mark's fund raising, or to make a donation, visit www.manxkili.com
Back to all news