Lending a Helping Hand to Mountain Bike Ace who has Sights Firmly Set on the Olympics
Social Feed
Lending a Helping Hand to Mountain Bike Ace who has Sights Firmly Set on the Olympics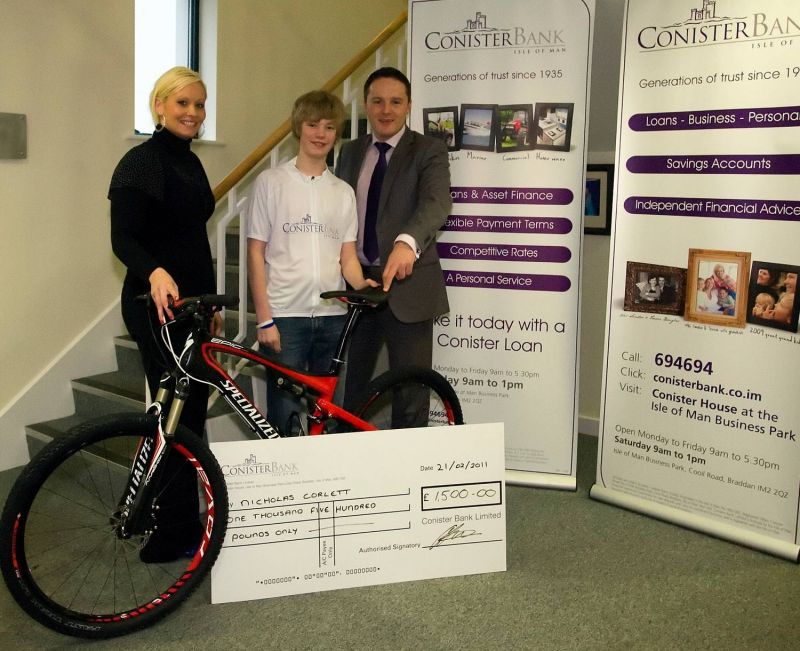 Conister Bank, the Isle of Man's only independent bank is delighted to announce that, as part of their continued commitment to the Isle of Man youth, they are to sponsor and support a dedicated, local, young Mountain Bike rider Nicholas (Nick) Corlett, in his quest to secure a place within the British Cycling Olympic Talent Team.
Fifteen year old Nick from Glen Vine has been presented with a state of the art 'Specialized', carbon fibre bike sourced from Eurocycles, Douglas, and additional support is also to be provided in the form of clothing, travel costs and other essential equipment.
During an exceptional 2010 season Nick rose through the ranks with an impressive set of race results which included:
29 top three finishes,
10 first place finishes,
12 of the seasons races where competing within adult competition riders,
2010 Manx Sleepwell Hotel End-2-End Nick finished second in his category.
Douglas Grant, Conister Bank's Acting Managing Director, commented: "Conister Bank recognises the many obstacles faced by young up and coming sporting talent on the Island. These youngsters and their families are faced with trying to achieve excellence whilst financially having to fund themselves in order to obtain the necessary specialist equipment and vital off-island competition. Being top of your game without off-island competition could mean the difference between local success and international success."
Fay Corlett, Nick Corlett's mother said: "Manx Cycling already receives a great deal of local respect, coverage and sponsorship, however, the category of mountain biking, although its popularity is increasing mountain biking receives a fraction of the media coverage. You just need to look at the number of entries for the 2011 Sleepwell Hotel End-2-End to see how popular it has become. Without the support of partners such as Conister Bank, many young sports men and woman would not be in the position to find the available funds to make their success happen. Such sponsorship is vital to the success of many an individual."
Photo attached Sam Lewis Conister Bank, Nick Corlett, Andrew Bass Conister Bank
Back to all news