Conister's MGP Support is Spur for Local Racer Andy
Social Feed
Conister's MGP Support is Spur for Local Racer Andy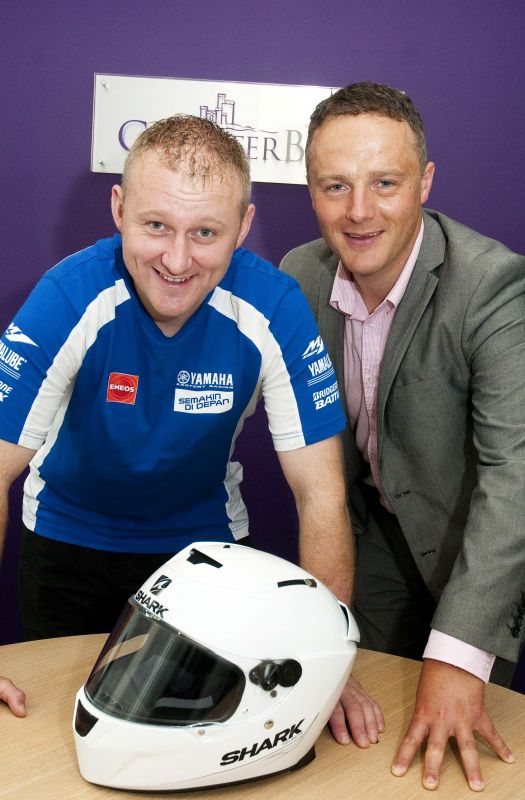 Local bike racer Andy Fenton may not have had the best of luck at the recent Southern 100 Races. But continued backing from his main sponsor, Conister Bank, has helped keep his sights firmly focussed on success at next month's Manx Grand Prix.
The Bank remain committed supporters of the MGP and are keen to keep the event's position in the island's sporting calendar by helping riders like Andy further their bike racing careers.
Having received sponsorship from Conister ahead of this summer's Southern 100, Andy finished 17th in the Corlett's Trophies 600/1000cc race on his Downie Yamaha with a fastest lap of 102.888mph. He followed this up with a highly promising 13th place in the Ellan Vannin Fuels Senior Race on his 750 Suzuki, registering a quickest lap of 104.463mph.
Later in the meeting, Andy unfortunately crashed on the approach to Cross Fourways during the seventh lap of the S&S Motors 600 Race and was taken to Nobles with a fractured ankle. He has subsequently had treatment in the Hyperbaric Chamber and the good news is that he is now well on the mend and looking forward to having his best ever finish in the MGP, which he first entered in 2010.
"The team at Conister have been extremely supportive and there is no doubt their sponsorship is moving my racing career forward leaps and bounds," said the 34-year-old self employed glazer from Braddan.
Conister Bank Business Development Manager, Andrew Bass, said he hoped that the Bank's support for Andy throughout the Southern 100 and the 2012 MGP would be the start of a longer term relationship. "We are delighted to be supporting Andy. He is a very talented local rider and we wish him every success in his future racing career," he said.
Meanwhile, Conister Bank Managing Director Juan Kelly said Conister was actively campaigning for the continuation of the Manx Grand Prix. "The MGP has played a pivotal role in island life for many years and we are very keen for the traditions of this outstanding event to continue well in to the future. In fact, the continued success of the TT is very much dependent on grass roots road racing events like the MGP because it provides an important platform for the next generation of Manx riders," said Mr Kelly.
Back to all news