Conister Bank Renew 'ACE' Card Sponsorship
Social Feed
Conister Bank Renew 'ACE' Card Sponsorship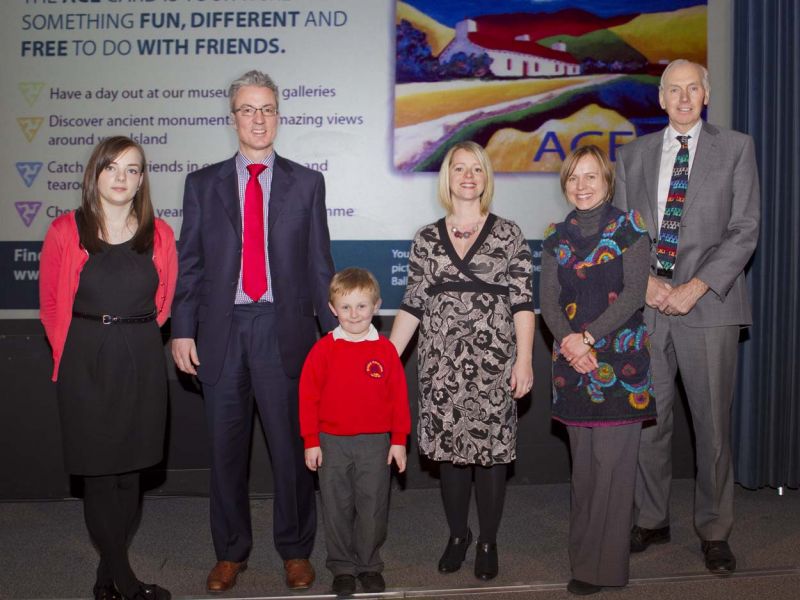 As part of its ongoing commitment to supporting the local community, Conister Bank has extended its sponsorship of the ACE cards which give Free Access to all Manx National Heritage (MNH) attractions for all Isle of Man school-children up to 18 years of age in full time education. The 2012 ACE cards will be distributed from January by the Department of Education & Children via the schools.
The designs of the 3rd edition of ACE cards were chosen from an overwhelming 1000 entries in this years' ACE design competition. The winner of the Secondary School category is Rhyanne Hancock, aged 18, from Ballakermeen High School with her beautiful and bold representation of Niarbyl. The under 12's category was awarded to Leo Fox, aged 5, from Braddan Primary School for his terrific Viking character. The winners were presented with their prizes last week and the new edition of the cards featuring their designs will be distributed to 12,500 Manx school-children and students in January. This will mean that the House of Manannan will still accept 2011 ACE cards until end of January 2012.
The Arts, Culture and Education scheme (ACE), launched in 2010, is a joint partnership between Conister Bank, MNH and the Department of Education and Children. The ACE cards can be used at every MNH site on the Isle of Man, including the House of Manannan in Peel which, along with the Manx Museum is open all year round from 10am to 5pm. Other seasonal sites will re-open from March 2012 and offer ACE cardholders the chance to visit the Grove Museum in Ramsey, Castle Rushen, Nautical Museum and the Old House of Keys in Castletown, the Great Laxey Wheel, Cregneash, Peel Castle and Rushen Abbey all for FREE! Under 12's need to be accompanied by an adult for their visit but young people aged 12 and over can visit on their own or with friends their own age.
Peter Karran MHK, Minister of Education and Children, said: "This is a wonderful scheme that allows children to begin to explore the rich heritage and culture of the Isle of Man. We are most grateful to Manx National Heritage and Conister Bank for opening the doors to all our attractions to our younger generation."
Juan Kelly, the Managing Director of Conister Bank, commented on the ACE card scheme: "I am pleased that Conister can continue to support such a fantastic scheme for another year. At Conister we are very focused on supporting the local community, and the ACE card sponsorship is one of the ways through which we can do this. As a bank that has been established for over 75 years on the Isle of Man, we know the importance of keeping our heritage alive, and I hope that the ACE card will help to do just that for the school-children across the Island.
Edmund Southworth, Director of Manx National Heritage said: "There have been over 7,300 visits by children and young people with their ACE card at our sites this year which is a great achievement. We would like to thank Conister Bank and the Department of Education and Children for their ongoing support of this scheme which is now beginning its third year of operation."
Conister Bank is an independent bank founded in 1935, domiciled on the Isle of Man and is a part of the Manx Financial Group PLC. ACE cards can be obtained from the IOM Department of Education and Children or by contacting Lynsey Radcliffe at Manx National Heritage on 648032.
Back to all news