Conister Bank Pledge 2013 Backing for Manx Auto Sport
Social Feed
Conister Bank Pledge 2013 Backing for Manx Auto Sport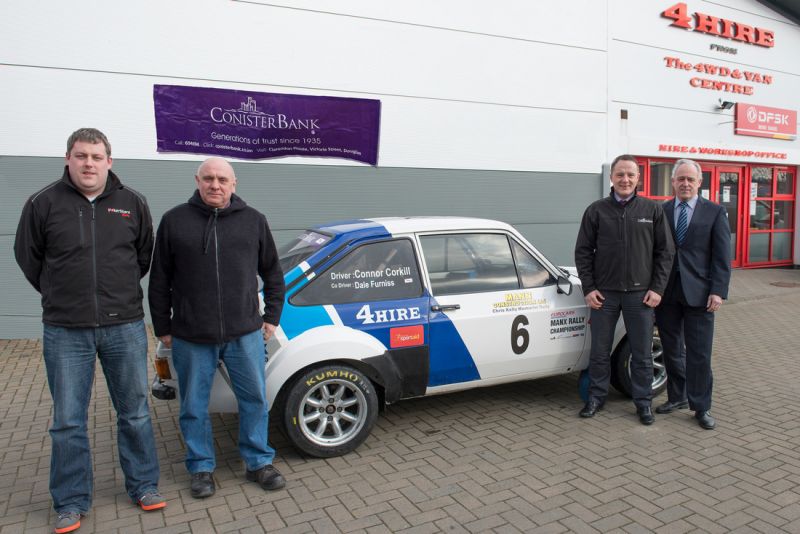 As Manx Auto Sport moves into gear for another exciting year's rallying, the organisation has been boosted with the announcement that Conister Bank is to continue its sponsorship for the coming season. This follows Conister's backing throughout 2012.
At the same time, Conister will also be supporting top local driver Connor Corkill, whose Ford Escort RS1800 finished a highly creditable third in the recent Chris Kelly Memorial Rally. Connor was the highest placed Manxman in the 53 competitor event.
Conister Business Development Manager Andrew Bass said the Bank was delighted to be extending its association with Manx Auto Sport. "As a long standing Manx lender, we are proud to be associated with Manx Auto Sport who have done a fantastic job over many years in making the Isle of Man one of the very best venues on the British Rally circuit," he commented.
Last year the Manx round of the Reis Get Connected MSA Tarmac Championship was voted by competitors the best in the entire 2012 series and Manx Auto Sport are determined that the Island receives the same accolade this year.
"It was a real feather in our cap to receive that acclaim," said Manx Autosport Chairman Mark Ellison. "Rallying remains incredibly popular here judging by the number of competitors who come from the UK to participate. Sponsorship plays a vital part in this success and we are extremely appreciative of the support that Conister Bank provides for us. We look forward to working once more with Conister and to having a very successful 2013 season."
Pictured left to right with Connor Corkill's Ford Escort RS180: Mark Quayle (Vice Chairman, Manx Auto Sport), Mark Ellison (Chairman, Manx Auto Sport), Andrew Bass (Conister Bank Business Development Manager) and Tony Quayle (Safety Officer, Manx Auto Sport).
Back to all news