Conister Bank officially launched at The Claremont Hotel
Social Feed
Conister Bank officially launched at The Claremont Hotel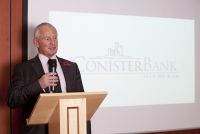 CONISTER Bank launched their new brand in style at The Claremont Hotel on Wednesday 4 November, with an evening drinks reception.
Guests were welcomed by Simon Hull, Managing Director of Conister Bank, who introduced the Hon Allan Bell, MHK, key speaker at the event.
As part of his speech, Simon Hull said: "The change from Conister Trust to Conister Bank has followed extensive research. The new name now accurately reflects what the firm does, namely taking deposits from, and making loans to, personal and commercial customers in the Isle of Man. The bank is also celebrating the launch of it's new service, Conister Wealth, which provides Independent Financial Advice."
"Confidence in the economy on the Isle of Man is good, despite the downturn and fear over the loss of VAT revenues. Demand for loans has gone up and at the end of last year Conister Trust had a record £64 million on deposit."
Mr Bell spoke about the history of Conister and said it had been a barometer of the economic health of the Island. He also wished the company continued prosperity.
The event marked the culmination of the extensive work which has gone on within Conister leading up to the rebranding and was also a thank you to all the staff involved. Invited guests enjoyed drinks and canapés whilst listening to harpist, Gina Williams.
Back to all news