Conister Bank Launches Unique Funding Option For Island's Meat Producers
Social Feed
Conister Bank Launches Unique Funding Option For Island's Meat Producers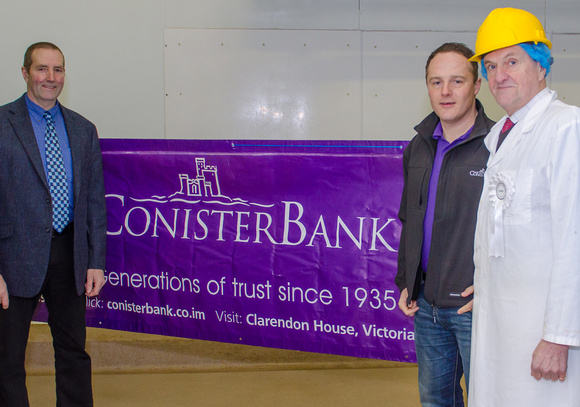 Cattle producers on the Isle of Man have been handed a timely financial boost with the announcement that Conister Bank is launching a unique loan scheme which could revitalise the island's hard pressed livestock industry.
Conister are providing favourably rated loans of up to 18 months to enable local cattle producers to fund the purchase of fresh stock.
The scheme – believed to be the first of its kind anywhere in the British Isles – is being championed by Isle of Man Meats who will be working in partnership with Conister to promote the new initiative.
The aim is to offer hard pressed beef farmers and other cattle producers a ready-made stream of capital, enabling them to finance the purchase of young calves. Conister intend a typical loan to be for the purchase of ten animals and upwards at a time, with the understanding that healthy stock will be bought by Isle of Man Meats at the end of the term - guaranteeing producers a ready-made return on the initial investment. There would be no penalties for early loan repayments.
Conister Bank's Business Development Manager, Andrew Bass, said the new lending facility would be at competitive rates and would provide an invaluable lifeline to the Island's meat producers.
"As the Island's only independent bank we want to help support and sustain the local agriculture sector," he said. "Our intention is to work in partnership with Isle of Man Meats to encourage greater beef production here and to keep beef on the island. With this in mind, these loans will be made available at very competitive rates of interest.
"We are acutely aware that there are currently huge financial constraints on farmers. The cost of feed alone requires substantial amounts of cash and prices are going to stay high for the foreseeable future. So by providing loans for farmers so that they can go out and buy young stock, and then sell that stock to Isle of Man Meats for a profit, has to be to the benefit of everyone connected with the island's meat producing industry," said Mr Bass.
The new initiative has already started to generate interest amongst the island's livestock sector and Conister - a dedicated Manx based lender for over 75 years - have confirmed that discussions are due to start shortly with several local producers.
"In effect, we are providing farmers and others associated with the industry with an overdraft facility to improve their cash flow so that they can buy the stock that they urgently need. It will enable producers to get a guaranteed return for healthy animals," said Mr Bass.
He added that any decision on financing could be made within a matter of hours. "It's all about making the transaction easy for producers and to give them peace of mind that financial support is there for them," he continued. "At the same time we want to ensure that the Isle of Man abattoir is used to its full potential. This scheme is designed to ensure that the local meat industry can be sustained at all levels and start to grow again."
Isle of Man Meats Chief Executive, John Dawkins, said the Conister Bank initiative had the potential to reverse the downward trend of diminishing numbers of cattle on the island and offer encouragement to young farmers coming into the industry. "This could present a great opportunity to some of our younger farmers to either establish themselves in the beef sector or expand their numbers where credit has been a limiting factor," said Mr Dawkins.
"We are absolutely in favour of supporting local producers but we wouldn't be able to sustain this without Conister's backing," he said. "We are extremely competitive against UK prices, so there is no reason for stock to be leaving the island. We firmly believe this partnership agreement with Conister Bank will help kick start greater local beef production and to keep beef on the island where it rightfully belongs," said Mr Dawkins.
Meat producers requiring further information should either contact Andrew Bass at Conister on 694689 or John Dawkins at IOM Meats on 674346.
Back to all news